Let's allow ourselves a little closeness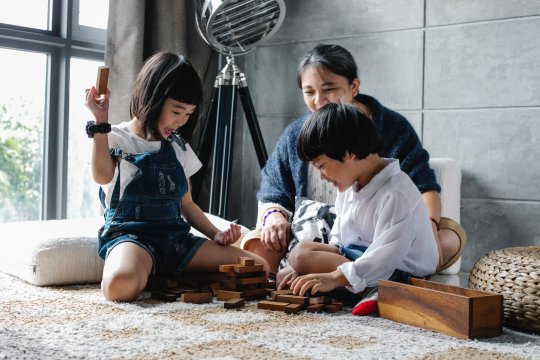 Let's imagine a scene. It's an ad for a furniture store. At the table there is a multi-generational family who are taking part in a quiz. The rules are simple: the presenter asks a question, and anyone who receives it and doesn't know the answer leaves the table. As long as the questions concern the lives of celebrities, the achievements of athletes or technological innovations, everyone answers correctly and has a great time. However, when the question: 'What university did your grandmother graduate from?', is asked, silence falls at the table. The next questions: 'Where did your parents go on their honeymoon?' and 'Who does your child want to be in the future?' also remain unanswered. The embarrassed participants of the quiz step away from the table. This scene is heartbreaking. The sight of sadness and disbelief can be seen on the faces of family members, when the loved ones could not say even a few words about them.
What brings people closer
We think just being a family makes us close. But that's not true. That's why, we encourage you to try to get to know each other. Open up, show an interest, and appreciate each other. Talk about your childhood, dreams and disappointments from that time. About your friends, playing with them and the amazing adventures you had together. Moments of courage, fear, sadness and joy. Everything you want to share and what's important to you. Just start and then go from there. And perhaps the next meeting at a shared table or board game will be full of such stories...
What dreams say
Sometimes we want to achieve or have something, and sometimes we just fantasise. Both testify to our needs. We ask our children if they are hungry, but do we ask them about their dreams. Find a quiet moment to talk to your kids about them. And don't worry that if your child talks about their dream, you should make it come true. Appreciate the child wanting to tell you about it. You can also make a time capsule, into which you will put notes with your dreams and plans. The ones that can't be realised right now, that you've had for a long time. There may also be some that have appeared in your heads recently. Everyone can pitch in with their own individual ideas concerning themselves. Also, think together about what you would like to accomplish together as a family.
All together or face-to-face
Remember that supporting the realisation of dreams strengthens self-esteem and a sense of self-confidence in a child. Think of a dream that you managed to fulfil. What helped you achieve your goal and what made it difficult? Talk about this experience and think together about what you can do to support your child on the way to fulfilling their dreams. Talk to them about it. Perhaps they have their own ideas. Also, remember that not all conversations have to take place when you are all together. It is important to create opportunities to talk to your child face to face. For the child, it is also a chance to get the full attention of the parent, who will not be distracted by the crying of younger siblings or a discussion with a teenager. Such an intimate moment of being with each other may be conducive to discussing important topics with the child. Such closeness emboldens.
Let's appreciate small gestures
Do we think about who did the shopping, the laundry, the car inspection, and who paid the bills? Some things are taken for granted. And they show that there is someone we can count on. Someone who also cares about our needs. Who we're important to. We encourage you to notice small, everyday gestures that will help you realise what you are grateful for to your loved ones. For bringing coffee and remembering that you like that particular one. For a picture of you with a lush purple haircut which the child drew with their tongue out (for unknown reasons it is absolutely necessary for this artistic activity). Sometimes for just being around, comforting us when we're sick, and hugging us. For no reason at all. It is worth expressing this gratitude directly.
The language of love
Remember that words do not speak the most to everyone – for some, a tender gesture, full attention or concrete action will be more important. Everyone has their own preferred 'language of love', as Gary Chapman, the couples psychotherapist, called it years ago. Want to know how to express your positive feelings towards a loved one so that it will definitely reach them? Take a short test on the '5 languages of love' showing your preferred way of showing care and love in close relationships. You can easily find it on the Internet. Consider also what 'languages' your loved ones speak. Closeness is one of the basic human needs. It is built by understanding one's own and other people's needs. This requires acceptance and openness towards the other person. But also mutual trust that our weaknesses will not be used against us. This could be a jump in at the deep end. However, it is worth taking a risk if you want to be really close with someone.
NEED SOME INSPIRATION?
Parenting is often a roller coaster. And every child and every family is a different story. We invite you to our 'Family time' zone. There you will find inspiring texts and proposals for joint activities with children. They will help you build relationships based on true closeness.
https://kulczykfoundation.org.pl/education/family-time