Dominika Kulczyk: I didn't grow up surrounded by women, and I'm very hungry for it. I believe that many of us feel this way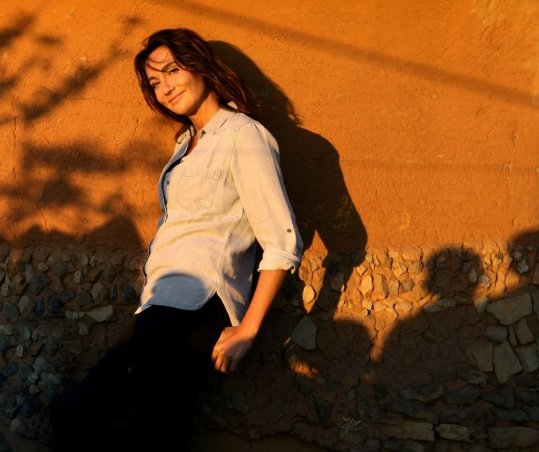 Sisterhood is...?
My most beloved state of being. I have an impression that to a woman, the relationship with another woman is very important. It's about being part of a bigger, valuable and substantial whole – for me, it's as essential as the oxygen we breathe. Sure, love towards a child or a deep relationship with a man is just as important, but I believe that a connection with another woman is just incredibly essential. If I could help women join their forces under a single banner, for a common and important cause, on clearly defined terms, then I'm satisfied. And that's what Sisterhood is all about.
Is the Polish-Ukrainian Sisterhood just such a banner?
The name was invented by Olga Tokarczuk. And it seems to me that Olga dived straight into it because she felt the same way as I did: that we, women, can do more when we do something together. Apart from the emotional feeling, we are also aware that a specific action, our hearts and heads working together, is something that simply works.
But we miss sisterhood every day; in fact, we are just learning about it or starting to remember it.
I'm still learning about sisterhood because until now I did not know the deeper meaning of it. The fact that women can live with each other as one. It's just that I haven't experienced it before. I didn't grow up surrounded by women, and I'm very hungry for it. I believe that many of us feel this way. I feel that our connection has been broken. The streams of our feminine energy have disconnected, they no longer form a common current. In the past, women were intertwined in everyday rituals like a braid, they baked bread together, they did embroidery together, they weaved wreaths together. And they always made sure to be close to each other, and to be there for each other. During menstruation, they devoted time to each other, they observed their bodies, they gave each other something. And then those menstrual cycles synchronised. It was always in us, it's just that we simply forgot about it. This proves that we are connected by a magic thread. We should enjoy it. I try to do it.
Was it a natural step for you to establish this type of organisation and support it financially?
I felt that if we are to be together, we have to be together for real. We had to rebuild the feeling that a woman who is there for another woman is also there for herself. It's not about giving each other smiles at a banquet. This magic is deep and real, and it translates into real action. When the war came and we had to open our hearts and our doors, we all behaved decently. We were delighted with our solidarity – and that's okay. I was touched, but I also had a reflection that this was going to pass. It's always like that with a honeymoon. I have visited many refugee camps around the world. Once the first wave of agitation and action passes, everyone forgets about these people. It's hard to stay engaged, and helping is a difficult topic. It's too difficult for many.
Did you want it to be tangible and long-term?
I wanted to do it a woman's way. To put both heart and head into it. You enwrap the whole family with love, but you also have to cook soup for them. So, let's get cooking.
You've said that helping is difficult. I remember an interview with you that appeared on the pages of Wysokie Obcasy a few years ago, and you were criticised after it was published. Here's the great Ms Kulczyk bending down to African orphans. What can she know about helping? About the hardships of life? About poverty?
I think that the main problem at that time was the unfortunate billboard campaign promoting the "Domino Effect" series on TVN. We lacked imagination and humility. But that was a much needed lesson. I learnt from it.
Speaking of lessons, there's a story that comes to my mind. That was when I first understood that helping will be very difficult, also emotionally. I was at a trip with the Rockefeller Foundation. We were learning how to help wisely and so that our help is a social investment. Our heart is important, but it's not just about its impulses. There, we collided with hard reality. One of the foundations in Uganda was caring for children whose parents were dying because of AIDS. Some had already died. Many children were also ill. It was all about death.
The way we were told about it was completely surprising to me at that time. A little girl entered the room. She was rapping about her mom who had died and about the fact that she too was about to die. Tears were running down our faces, we were shaken, but trying to keep composure. I managed to keep it until I went outside. I saw a house that had large, wide open windows from floor to ceiling. In the house, there was nothing but tiny coffins... When I saw this, I fell apart. The girl who invited me to that course approached me. Among other things, it was thanks to her that I learnt what helping is about, also in operational terms. She gave me the most important lesson. She grabbed my hand and said: "Look, if you can't take it, go home. I understand that it's hard for you, but we are here to be like a rock for these people. Your emotions are not important here. We are here to carry the misfortunes that we have chosen to carry. Go back to the bloody car and come back when you stop bawling and taking hope away from these people". Then I realised that this will all be difficult. It does not matter whether someone has more or less money. If they have a heart and want to navigate it, they experience everything the same as anyone else. Drama, pain, helplessness of another human being. It's important to also take care of yourself in all this. You mustn't forget that you won't help anyone when you're on edge yourself.
Does the fact that I have more money make me feel less? I think you know the answer to that question.
You've said that you've understood what helping is about. Explain it to me, then, like a woman would do to another woman.
I don't know a perfect method or a perfect definition. I face the same situation all the time. I know that I can do something because it so happened that I have all sorts of tools for it. This is my calling. I have to feel it. You should choose not only using your head, but also from the heart. Having a sense of peace that this is my way, I walk it, and I'm trying not to ruin anything. And while doing so, I am also vigilant of my ego.
To make sure that it does not get too big or too small?
A very wise friend of mine has said to me: "There is nothing wrong with having an ego as long as it does not have you". I don't pretend to myself that I don't have it or that I'm not guided by it in some way – also in helping. If we go back to a few weeks ago when some of us came to visit our friends from Ukraine or brought them food, how many of you did not feel any satisfaction from doing so? Those who didn't would be hard to find – and that's okay. Why categorise whether this is good or bad? First, do no harm. To feel like I'm doing as much as I can. I'll make mistakes, for sure. It happened to me many times: people I trusted were not worth it, my assessment turned out to be wrong, someone had grievances. That's life. But I do what I can, and I do it to the best of my ability. I do the homework life gives me. And there's nothing wrong with having a sense of accomplishment out of it, because if something does not give you satisfaction, it means that you sacrifice yourself. And I don't believe in sacrifice. We all need to feel good about what we do. But...
Yeah, right: but?
We should not excessively indulge ourselves in this regard. Balance is best. We should enjoy what we do and how we help, but it shouldn't cloud the whole picture. It shouldn't be done just to make someone think well of us, because this should be like a red flag. The most important thing is the deepest intention known only to us, that we can judge in a painfully honest way.
Have you had times of self-glorification?
Not self-glorification. Maybe it's because I'm terribly self-critical. That's how I was raised – I wasn't spoiled with compliments, not really. But I've experienced moments when I didn't understand why someone I offered help to wasn't happy. It still happens to me, but today I understand more. I think that if help is given so that the person being helped does not have to put any effort into it, then paradoxically – instead of appreciating it – they often feel angry. And this is the absurdity that we have in ourselves. We feel bad when we become someone's debtors.
How have you come to terms with it?
Once you become aware of certain phenomena, these things are no longer that terrifying. Sometimes they hurt and irritate, but the worst of monsters is an undefined one. At first, I was surprised by such situations. Then I let go, and at the end of this long-term process of engagement – when I was there for someone – I started to think that you have to respect the fact that there are people who might not want to accept your help. I stopped offering it until I'm asked and I respect it if someone doesn't want it. I think that I used to think I knew better. Now, I don't think so anymore and I'm very vigilant about it. You can't make someone happy if they don't want to be.
In a sense, this is happening today, when great solidarity and the desire to help have great potential to turn round, as Plato said, into the opposite of itself. We are tired, we want gratitude, and it can be different. And it's OK, but there's a deep sense of affront or ingratitude.
I'm just trying to do a very honest job of understanding all this. I read, I observe, and I see that it can be thought of in hundreds of ways. Do I know any prescriptions or recommendations? I don't. The most important thing for me is that I did not consciously hurt anyone. It is enough for me that the world is a little better place now.
You say: I don't know. That's a rare skill because we are used to a world – the men's world – where everyone pretends they know everything. This is what Trump's, Bolsonaro's and also our own government's policies have showed us in the face of the pandemic. At that time, Jacinda Ardern or Sanna Marin said: I don't know, I need help, knowledge, experts. That's a big change.
You know, maybe this is an incorrect opinion, but I think we, women, are closer to our emotions and heart. We often act intuitively, based on our wisdom. And it tells you that when you don't know, you look for help and more information.
Did you buy Maria Skłodowska Curie's house with your heart?
That's a funny story. I was traveling. I was in a place where roses were hanging from the ceiling. Symbols are important for me, I look around a lot and I observe. When I saw roses on the ceiling, I thought: oh, that's women's space.
And suddenly I had a message from my colleague: Maria Skłodowska-Curie's house is for sale. Thunder from the clear sky. I thought: there's a task for me. Maria: emigrant, feminist, independent mother. After all, I'm like that, too. Thousands of women are like that. And we are talking here about a two-time Nobel Prize winner, a professor, an outstanding individual. It was thanks to her that the development of modern power industry began – one of the pillars of my today's activity. There are no coincidences here. We got to work right away.
In two days' time, I got there to see the house. I'm driving up to it, I'm getting out, and a woman who looks like my grandmother comes out to see me. Is this really happening? We greet each other and fall into each other's arms. After 10 minutes, we had everything preliminarily settled. Only formalities remained.
What will it be?
The Sisterhood House – a space for women, ideas, a space for action. I looked to it that this child is born, and now we are going to raise her in a community. It's just our girl thing, between me and Maria.