Parents say that they don't want to get angry at their child and that it definitely won't happen again. And in the morning it's the same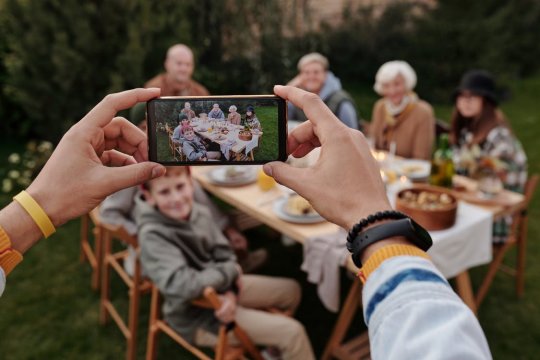 In your new book, 'Zbudujmy sobie wioskę' [Let's Build a Village], the main idea is: let's take care of ourselves, because only then can we create good relationships. The previous book, 'Potrzebna cała wioska' [It Takes a Whole Village], ended with this sentence: 'Changing the world is not about shouting, setting top-down rules, or mandating something to others, it's about starting with ourselves and giving the opportunity for what's important to us to expand to other people'.
M.S. When Agnieszka and I talk about supporting parents, we often get to a place where it's not enough to talk about children, about their development, about what might be behind their behaviour. To be able to support children, a parent first needs to get in touch with themselves, to take care of themselves.
A.S. It's not just about being in touch with myself, but also being able to turn to other adults.
In many cases, we will not move forward without working on past traumas. Can it work without therapy? You write that the past doesn't determine us completely and we can probably be supported by it at times.
A.S. People have a variety of experiences: going to therapy, being immersed in a nurturing community, reading different things. It is difficult to determine what the primary source of change is and what has been built upon it. It's also important to remember that making changes in your own life isn't just about dealing with the past; it's also about learning new skills and behaviours. It also often takes a shift in perspective to a more supportive one and looking at your beliefs about reality. The idea that therapy is all about looking back at one's childhood is a very outdated perspective and often scares people away from therapy.
You write that we can see a lot of things in our lives by having a strong back – what does that mean?
A.S. If by a strong back we mean trusting ourselves, communicating our needs openly, and believing in the signals that the body sends us, then we can say that we are already born with such a base. Of course, like any other aspect of our functioning, it can grow with the right tools. These tools are based on self-awareness and self-understanding at an increasingly complex level, and on an increasingly sophisticated ability to communicate what is happening.
This is the ideal.
A.S. Yes, this is an idealistic version and imagining it is an interesting experiment.
M.S. I associate this strong back with an internal skeleton that allows us to stay upright, to stand steady, and to know what we want and what we don't want. If we lack this due to difficult experiences or lack of supportive people, we create an external skeleton for ourselves.
An armour. You write about it.
M.S. Yes, this armour is supposed to protect us, but at the same time it cuts us off from other people, makes communication and contact difficult. It prevents closeness and deepening of relationships. On the one hand, this armour can be helpful, but on the other, it comes with a certain loss. Therefore, internalised self-esteem is more supportive.
What is self-esteem? Today, we actually praise children ad nauseam, not daring to criticise them so as not to clip their wings.
A.S. I think a very big source of difficulty for us is culture. We usually can't imagine giving up the 'good/bad' perspective of praising and criticising at all.
Judging.
A.S. Yes, we find it difficult not to judge people and their behaviour. We can imagine the choice between judging that something is right or wrong. It's very hard for us to go beyond that division.
Sometimes, when I yell to remind my teenager to learn, I later wonder if it wouldn't be better not to say anything at all.
A.S. I think there are many other possibilities, such as resorting to contact with myself. If something arouses my emotions, I can stop and think about why it is happening and why it is a problem for me.
M.S. That is, before I even bring something into a situation, I check with myself about why I'm doing it and what I'm trying to take care of. I then have a chance to see a lot more solutions and strategies than just whether my teen will or will not do something.
A.S. Another option that comes to my mind is listening.
M.S. Listening is a skill worth consciously learning. Because listening is not just silence. It can be asking questions, being curious and directing your attention to the other person.
How do you build self-esteem if not through praise?
A.S. The foundation in this area is acceptance.
M.S. And the starting point for acceptance is seeing things as they are. It doesn't necessarily mean that I love it and that I am comfortable with it. I first look around and accept what I see without anger.
Sometimes I feel that anger is our main emotion – people let it out even towards strangers.
M.S. Anger is an emotion that is easily seen. If it is strong and growing, it is easy to see that it is being experienced and expressed. That's kind of a simplification, though, because it's not like we only experience one emotion at a time. Most often, there are more of them. For example, underneath anger there are anxiety and insecurity.
A.S. People are under a lot of tension and freezing right now, so little things can put somebody off their stroke. We are in fear all the time, and from there it's just a step to anger. Anger is also often a mechanism for coming out of a freeze. I see it for myself – when I'm in bad shape and in a bad mood, frozen and burnt out, everything bugs me.
M.S. With this anger, we mobilise energy to stop being in stillness and breathlessness.
A.S. In the current situation, this energy has accumulated so much that all it takes is that someone lightly touches us, and it shoots out.
The zones of regulation – the aforementioned freezing, comfort, but also contact and development, fight and flight – are a very interesting and helpful concept. Where did it come from and how do you use it?
M.S. There are many authors because emotional regulation is not a new term in psychology. The theoretical basis is Porges' polyvagal theory, and Daniel Siegel was the first to write about zones in books for parents in the Polish market.
Why use it?
A.S. This model gives us a language to describe various states, especially freezing, which in our culture is the least noticed and least named state. When we talk about zones in workshops, with freezing the most common reaction is: oh boy, I have that, I just didn't know it, I didn't know what it was.
M.S. Freezing is a state in which we have little hope that our situation can change for the better. It is difficult to recognise and, as a result, we find it harder to reach out for help and support from others. We are in this state when something difficult happens to us, or when all the ways or tools we have to protect or cope fail.
A depressive state?
A.S. Depression is one version of freezing.
How often are you in your comfort zone, or the green one?
A.S. Definitely less frequently than two years ago. This shows that we do not choose which zone we are in, but it is the action of the autonomic nervous system that recognises a threat and reacts appropriately to the situation. So what options and strategies we have access to depends on our state. If we want to increase our access to these tools, we look at what state we are in and what we can do about it.
M.S. It's not about mobilising ourselves to do more when we're having a hard time, but rather starting by building our sense of security, dealing with stress, or improving our well-being. This gives us access to various resources. I recall a situation when parents say how they don't want to get angry at their child and that it definitely won't happen again. And in the morning it's the same.
It's just like you're talking about me.
M.S. I suggest that we look at it with gentleness, and say: 'Everyone does it sometimes'. Instead of gritting our teeth, we can look at what new things we need to learn and how we can improve our condition so that it happens less often and is easier for us.
A.S. This ties in with another element that the zones model gives me: it allows me not to judge these different states – that is, not to berate myself for being under stress and having stress reactions – but to activate curiosity more. Ask yourself why this is happening, why in this way, at this time. Curiosity is the way to find a solution.
You write in the book: 'We don't reject anything, we don't get rid of anything, we don't judge anything as bad, we don't get into fights' – that's deeply intimate and ideal. But very difficult. Especially we women keep whipping ourselves. A bad daughter, a bad wife, a bad mother. Even in this sentence: 'Sit down and study' there is fear.
A.S. It is worth asking myself what I am afraid of. Since this fear has shown up, it's there somewhere. First we act from the part that is afraid, then the part that is not afraid turns on – it says there is no anxiety or fear. We think the issue is settled – until the fearful part turns on again. For me, the option is not to pretend that it's gone, but to go back to it and say: I have this part that is afraid of something, so I want to see what it's about, because if I don't, it's going to surface before the next test. We often do that – people argue, then they stop arguing and think it's better not to touch it because it's okay now. And that one was unpleasant.
M.S. Consequently, they don't touch it until the issue surfaces again. I would also say what it actually means – you need to address the part that is afraid. It could be asking it questions: what are you afraid of, what are you concerned about, what are you telling me about? Or: what's the worst that can happen if he doesn't study today?
So do we need to learn to live in and with it, to accept it?
A.S. Yes, because then I view my options from where I am, not where I would like to be.
M.S. And it's certainly easier to accompany our children from where they are rather than where we would like them to be. This is the only place where a meeting can take place.
'We live our lives without remembering that the body has certain limitations that it cannot overcome', you write in the book. Today I spoke with a doctor who does Chinese medicine. He told me that people are often unable to make simple changes: going to bed at 10 p.m., marching half an hour a day, and implementing good eating habits. It's like we're barring ourselves from the prize.
A.S. The trouble is that we often treat taking care of our bodies as a reward. That is, you have to do a lot of work to earn it – sleep, good food, and so on. It helps me more if I think of it in terms of investment.
I give my body fuel first, and then I can go on that fuel. But if I tell myself every day to do my best, I'll go to bed every day frustrated that I didn't succeed. So what can I do to make my plan work? Is that half hour of marching realistic for me at this point? Because maybe I could go for shorter walks to begin with? How about every other day?
However, we shouldn't whip ourselves with these things that are 'good' for us either.
A.S. We also cannot whip ourselves because of the fact that we are whipping ourselves. People get into multilayered constructs where they do something, then they reproach themselves for doing it, then they reproach themselves for reproaching themselves. That is, they don't gain anything, they just add to it. My place of choice isn't in the fact that I won't take myself down, it's in the fact that I will add a voice that is supportive, gentle and kind. This I can do intentionally and it will be my choice.
You say: if it comes to my mind that I don't want (which I think means I'm afraid of something) to say something out loud because someone might reject me because of it, then the sooner it happens, the better. Sometimes a lot of things bother us in relationships, yet we choose not to say it out loud because we are afraid of hurting the other person.
M.S. We don't give ourselves a chance to let that closeness deepen.
A.S. But on the other hand, I understand the perspective of a person who has no other, better option.
Is such a relationship better than none at all?
A.S. Yes, for some people. Plenty of people choose unsatisfying relationships because they are afraid of not having any, and there are many people who are satisfied with such a relationship because they have not experienced anything else. And they can't imagine it.
M.S. Showing myself, being authentic means that I choose what I show. And sometimes I choose not to show something because the cost would be too high for me or for that relationship. I choose what I show and what I leave for myself.
A.S. There are different reasons why I choose this – because at the moment, for example, this person is having a hard time and won't handle it. Or we can have a great relationship but not talk about politics or some other topic that divides people a lot. Conversely, if in a relationship with a loved one I choose notoriously not to talk about a piece that is important to me because I'm afraid of what the other person will do when they hear about it, then the more situations there are, the weaker that relationship becomes.
We're talking about close relationships, but how do you react to ordinary street rudeness, of which there is quite a lot now – arguments over masks, about standing too close next to each other, etc.
M.S. It rarely affects me. Sometimes I am affected by different things that happen in close relationships. Strangers' reactions hurt less. I try to direct my attention where I have influence. I think not judging others, knowing that there is a story behind everything they do, helps me protect myself too.
A.S. And we are again on the topic of strong back that we talked about at the beginning – for me, it's also about knowing that how much I'm affected by something depends on the story I have around it. And I choose the one that these people are under stress and suffering. It helps me to detach from it, to not think that it's about me, just that it was hard for someone and it overwhelmed them, so they're venting it.
It also involves equal dignity, which you write about in the book. It's a bit of science fiction in our patriarchal country. This is a topic for another book. And all three of us are raising sons, so a lot depends on us.
M.S. I just thought to myself that each of us is writing her own chapter and we have an impact on what kind of home our sons grow up in because of our choices. Of course, this is a bit of a simplification because often different experiences lead us to places we wouldn't want to be at all.
What can be done to raise in the spirit of equal dignity?
A.S. I need to start by remembering about equal dignity in my relationship with my child. And this is much more difficult than in the relationship between men and women.