Domino Effect: Free, despite all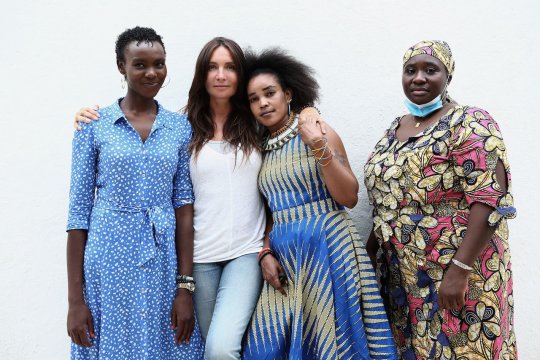 It is now the eighth season of "The Domino Effect". Thus far, the TV crew has produced more than 60 episodes, visited over 40 countries on six continents, and circled the globe about 20 times. The audience of the se-ries could see the stories about, among others, sexual violence, human trafficking, witchcraft accusations, refugees fighting for survival, children living in the streets, and women forced into prostitution.
- "As a reporter and philanthropist, I have dealt with various problems of the world. Yet, when I realised that change is a woman and a woman is very often the source of change, I decided to focus on women's issues. I want to support women's freedom in the sphere of consciousness, corpo-reality, and existence," says Dominika Kulczyk. She further explains why the latest season of "The Domino Effect" is entirely devoted to women who do not agree to injustice and fight for their and other women's free-dom every day.
A real change outside the film frame
"The Domino Effect" is the only television programme that combines documenting the problems of the modern world with delivering aid and promoting a lasting, positive social change. Not only does it discuss the difficult fate of the presented characters, but also supports those most in need. The Kulczyk Foundation and local organisations support them financially and organise educational activities. Thus far, altogether 600,000 people from 65 countries around the world were supported by the Foundation. This time, Dominika Kulczyk together with the Kulczyk Foundation aims initiate changes that will permanently strengthen the social and economic position of women.
In one of the episodes of the eighth season, we will visit women with disabilities – the beneficiaries of the Poland-based Avalon Foundation. We will learn not only about their plans, dreams, and passions, but also how to break social myths related to sexuality and parenthood. Next, in Italy, we will get to know the PIAM Onlus organisation, which helps immigrants and supports African women who left their homes in search of work, but were forced into prostitution as victims of human trafficking. Lonely, not familiar with the language, having huge debts and no documents, they are unable to free themselves from the dramatic circle of violence and exploitation.
Another episode will be devoted to supporting women and girls who are endangered by the "tradition" of female genital mutilation cultivated among African immigrants and refugees in Spain. We will learn the story of the founder of the Save a Girl, Save a Generation organisation, which is based in Madrid and helps injured women both on the spot and in their homelands. We will also learn about the dramatic stories of women from Bosnia and Herzegovina who survived the greatest crime of genocide in post-war Europe (the identification of victims from mass graves continues to this day). Both them and their children still suffer from the trauma caused by the Srebrenica massacre that took place in 1995. They are supported the Snaga Žene organisation, which provides both psychological and financial help.
The episode filmed in Uganda will be devoted to discussing the menstrual taboo. In Uganda, women often lack basic hygiene measures, and due to ignorance of the problem, stereotypes and stigmatisation related to menstruation prevail. Many girls do not go to school or to the doctor during their period. Fortunately, they are supported by the Irise organisation, which combats period poverty by providing sanitary napkins, teaching women how to produce them, and organising menstrual training in schools.
Female strength has no limits
The new season of "The Domino Effect" shows that in the 21st century, millions of women still suffer prejudice and harm inflicted by those who do not recognise their rights. But at the same time, the series gives hope that "a woman, if she has a dream and starts to make it come true, can go all the way and achieve what she wants. She just needs a little courage and support."
- "Self-realization, self-determination, equality and simply happiness are still hindered by superstition, misunderstood tradition, and social and economic limitations. In this season, I show the extraordinary and admirable fight of women for a better life. Their inner strength and courage are the driving force – they change this world! Their stories can and should become an extremely valuable inspiration for all of us. Because female strength has no limits, just like our need to speak with our own voice and be truly free," summarises Dominika Kulczyk.
The eight season of the Domino Effects starts on March 7th. New episode every Sunday at 11:30 am on TVN!