The Periodic Coalition was formed to fight menstrual exclusion. Yes, in Poland.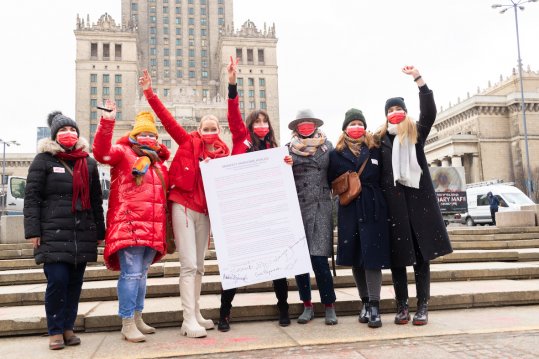 - "We are very happy that such a coalition was created. Although, when working on the manifesto, we discovered that the members of the coalition may have different views and different ways to fight period poverty, we really want the same thing. It is crucial that that despite these differences, we are able to unite together and fight for such an important issue – that is, a worthy experience of period for every person that menstruates," said Magdalena Demczak from Akcja Menstruacja.
In Poland, there are many myths and stereotypes around menstruation. Menstruation can still be a topic that causes embarrassment and awkwardness. It is a source of mockery and indiscriminate jokes. Access to sanitary products also constitutes a problem. According to the studies commissioned by the Kulczyk Foundation, even every fifth Polish woman cannot afford to buy the preferred sanitary products that ensure comfort! The Periodic Coalition was established to put an end to the ignorance towards the topic of menstruation and to highlight the pressing issues related to the lack of awareness, menstrual education, and period poverty.
- "Our blood boils because of the ignorance towards this topic. If there were no menstruation, there would be no giving of life. It's time to understand that menstrual exclusion and period poverty is not only a problem for women, it is a problem for all of us," said Dominika Kulczyk, President of the Kulczyk Foundation.
Apart from Magdalena Demczak from Akcja Menstruacja and Dominika Kulczyk from the Kulczyk Foundation, other activists and experts from organisations fighting against the problem of menstrual exclusion also participated in the inauguration of the Periodic Coalition, including Ewa Szymera (Różowa Skrzyneczka), Basia Pietruszczak (Pani Miesiączka / moonka), and Ula Okoń (Polish Red Cross). As part of the happening, they urged passers-by to throw balloons with red paint at the wall with the inscription "Our blood boils", as an expression of disagreement with the continued ignorance towards the topic of menstruation and as solidarity with the manifesto and the whole idea behind the action.
The Periodic Coalition includes the following activists, experts, and organisations:
Akcja Menstruacja
Dr. Iwona Chmura-Rutkowska, Adam Mickiewicz University, Poznań / Fundacja Ja, Nauczyciel,
Therapist, sex educator, Dr. Alicja Długołęcka
Fundacja One Day
Fundacja Pokonać Endometriozę
Grupa Ponton
Kulczyk Foundation
Natalia Miłuńska, miesiaczka.com
moonka
Pani Miesiączka
Polish Red Cross
Różowa Skrzyneczka
"Pogotowie Społeczne" Association
Szajn
As part of the Year of Menstruation, the Periodic Coalition intends to launch initiatives such as:
providing access to sanitary products for menstruating people, among others, in schools, orphanages, single mother's homes, centres for people in a homelessness crisis, and prisons;
spreading knowledge about menstruation by distributing educational materials for parents that will support them in conversations with children;
breaking the menstrual taboo as part of awareness-raising campaigns, meetings and debates;
spreading knowledge about the ecological aspect of sanitary products through publications and conversations with producers to introduce health-friendly as well as environmentally safe sanitary products;
publicising the problem of limited access to gynaecological care for teenagers and lobbying for changes in this area.
The Periodic Coalition points out that downplaying the topic of menstruation can lead to physical health problems in a straightforward way. Lack of prophylaxis and proper care can lead to the development of infections and dangerous diseases such as endometriosis or cancer.
- "Pain during menstruation does not reflect your looks. If it hurts, look for a good gynaecologist, an expert, find out if you do not suffer from endometriosis. Quick diagnosis speeds up treatment," - says Lucyna Jaworska-Wojtas from the Pokonać Endometriozę Foundation.
But the consequence of the lack of education and proper prophylaxis can also lead to mental health problems: fear and shame resulting from attempts to hide a period, difficulties in performing daily duties or participating in social life. All of this can affect study and work, and consequently the level of education and the possibility of finding a good job. As many as 1 in 6 students in Poland miss school because they cannot afford to buy sanitary products.
Research commissioned by the Kulczyk Foundation also exposes other problems related to menstruation. Only 68% of women declare that they accept the fact that they menstruate, and almost 25% believe that women should not talk about menstruation in the presence of men. The same number of women think the period is dirty. Every fifth respondent expresses the opinion that menstruation should be left a secret of women and that it is important that no one finds out about their period.
The negative effects of period poverty have begun to be noticed by individual governments in the world. Free sanitary pads appeared in schools and universities in Scotland, France, New Zealand, and Great Britain. Organisations fighting against the problem of menstrual exclusion in Poland believe that the time has come to introduce such changes also in Poland!
As they write in the manifesto "On March 8, 2022, we will publicly summarise the effects of actions undertaken by us during the entire YEAR OF MENSTRUATION. We believe that this year will be the beginning of comprehensive changes in public and social life in Poland in terms of combating period poverty and menstrual exclusion, and that the following years will bring long-term effects of our actions."