8th edition of Yellow Plate programme launched!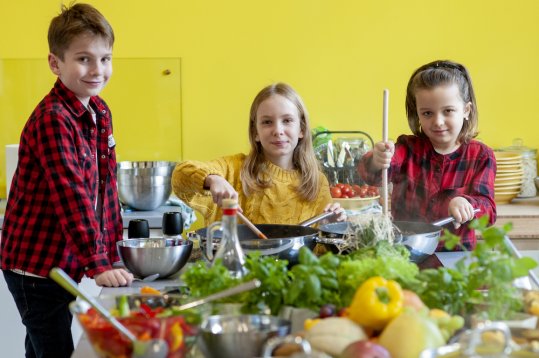 - It should be a great shame for our country that in the 21st century, in the heart of Europe, there are still many children who are hungry. It is common for them to eat too little and receive irregular or incomplete meals. And yet, without satisfying their basic nutritional needs, it is difficult to talk about a happy childhood, learning, development, and play - says Dominika Kulczyk, President of Kulczyk Foundation. - We are launching the Yellow Plate programme again. Together with our partners, we will make children healthier and happier – she points out.
The Yellow Plate programme has been carried out by Kulczyk Foundation in cooperation with social partners since 2016. It is the largest private programme of this kind in our country. In Poland the Yellow Plate programme introduced a new standard of supporting nutrition system financed from social funds in school canteens and community centers. For many children it is the only chance to get a warm meal during the day. As part of the Yellow Plate programme we cooperate with reliable partners: Caritas, the Friends of Children Society, the Polish Red Cross, and SOS Children's Villages. It is a unique alliance of Polish aid organizations for children in need.
The Yellow Plate programme is constantly being developed. In its first edition around 6.000 children took part and received a million meals. The fourth one, ended just recently, is 2 million meals distributed among 15.000 children from educational and care facilities. In total, since the beginning of the programme, as many as 7.2 million warm meals have reached the youngest in need all around Poland. Kulczyk Foundation has spent as much as PLN 25 million for this purpose.
Educational activities are the important dimension of the Yellow Plate programme. As part of it, we organize workshops and trainings on healthy eating. Both children and the programme's coordinators from particular facilities participate. For the last 4 years of the Yellow Plate programme there have been over 1.000 workshops for children and around 70 workshops for the coordinators. There are educational materials alongside on how to eat delicious and healthy food which reached pupils and their parents.
As part of the programme we cooperate with the world of science – the significant partner of Kulczyk Foundation is the Faculty of human Nutrition from the Warsaw University of Life Sciences. The University's experts created the Yellow Plate List. It can be used by the people who prepare food for children so as to provide wholesome meals according to their needs.