Comeback to the Domino Effect Workshop: about water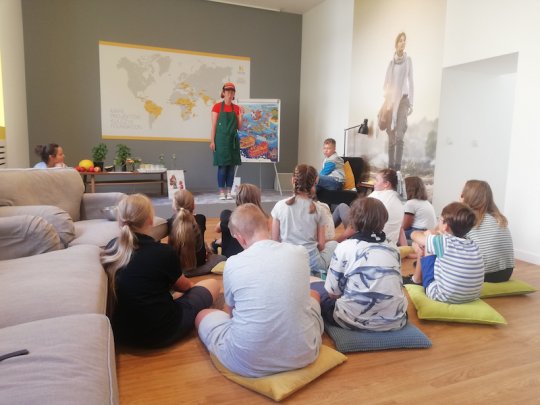 After a long break caused by coronavirus pandemic restrictions we came back to the Domino Effect Workshop. We were hosting the children from the Society of Children's Friends Olsztyn. As part of the summer holiday classes, they set off on a trip to Warsaw. They started their visit to the capital in our Workshop and took part in the educational-culinary workshops, later, they went to visit the Copernicus Science Centre and walked in the gardens of Warsaw University Library.
The classes in the Domino Effect Workshop were run by Aneta Łańcuchowska who played Miss Wanda – known for the scenarios published by Kulczyk Foundation under the Yellow Plate programme. During the workshops we tackled the topic of human body's proper hydration. The children learned what functions water has in the human body, as well as what we should drink, and what to avoid. During the classes they could taste flavoured waters – they particularly loved the one with melon flavour, and… apple pie.
After the educational activities, in the Yellow Plate kitchen the children together with Miss Wanda prepared delicious, healthy desserts for summer days – raspberry-apple sorbet with roasted almonds.
The 4th edition of Yellow Plate - the biggest private programme in Poland to support the system of children nutrition and nutritional education – lasts till the end of August. As part of it over 15.000 children received around 1.86 million meals. There are two more educational – culinary workshops ahead of us, and from the 1st September we start the next edition of the programme!