Dr. Jan Kulczyk Scholarships granted for the best students and Ph.D. candidates of Adam Mickiewicz University in Poznan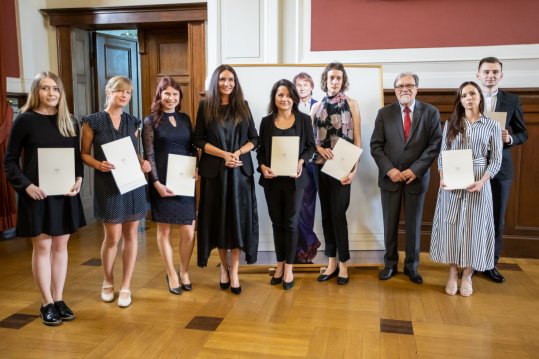 For over 20 years, every year, students and Ph.D. candidates of the biggest Poznan university have been awarded scholarships for their very good academic performance, outstanding scientific achievements and activities for the university. The origin of this tradition dates back to 1998, when Grazyna and Jan Kulczyk made a donation which helped to create scholarship fund by the UAM Foundation.
- My Father believed in intellect and education. He used to say that education is the key to building your own wings. Today, we see how important this knowledge is. We are more and more convinced of that than ever before, every day. I know that these young, but already outstanding people who have been awarded scholarships will turn their knowledge into positive changes the whole society will benefit from. It is a great honor to be part of it – emphasizes Dominika Kulczyk, the President of Kulczyk Foundation.
This year because of the pandemic the procedure of awarding the dr. Jan Kulczyk scholarships has been changed. The jury were working remotely, and only after easing the restrictions by the government and the university authorities was it possible to organize the celebration of awarding the scholarships. They were granted in the Lubrański Hall in the UAM's Collegium Minus.
The students awarded in this year's edition of the scholarship programme are:
Michał Tomasz Dziedzic – Faculty of Theology, theology major, with the priest specialization,
Mateusz Gołębiewski – Faculty of Physics, physics major, specialization: Physics of Advanced Materials for Energy Processing (PAMEP),
Iga Skrzypczak – Interdisciplinary Individual Studies in the Humanities and Social Sciences, leading major – philosophy,
Olga Żyminowska – Interdisciplinary Individual Studies in the Humanities and Social Sciences, leading major – philosophy.
The following Ph.D. candidates were also awarded the scholarships:
Klaudia Adamczewska – studies in the social communications and media (Faculty of Political Science and Journalism),
Agnieszka Nymś-Górna – studies in sociology and pedagogy (Faculty of Sociology and Faculty of Education Studies),
Milena Roszkowska – studies in biology (Faculty of Biology),
Aleksandra Wieczorkiewicz – literary studies (Faculty of Polish and Classical Philology).
Moreover, since 2014 the citizens of Ukraine studying in Poznan have had the chance to be awarded the scholarships. Every year 50 students receive a one-off financial support. The criteria are: student's difficult material conditions and their academic performance. In 2020 such scholarships were awarded in April.
The total amount of Dr. Jan Kulczyk Scholarships awarded so far to students and Ph.D. candidates is over PLN 2.1 million. The support for the students from Ukraine of the Poznan university is already over PLN 900.000.