New mental health support for women and children living in Cox's Bazar District as a result of Kulczyk Foundation and HOPE Foundation partnership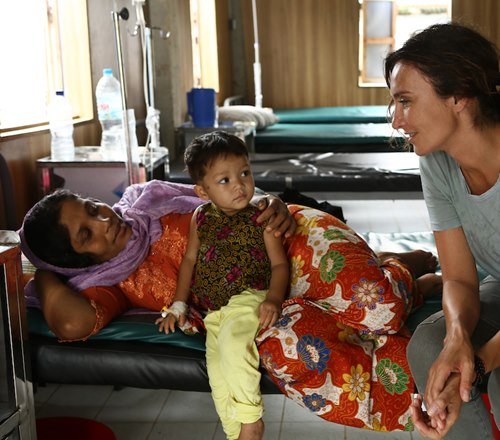 Six million people in Bangladesh experience depressive disorders and almost seven million experience anxiety disorders[1]so there is a huge need for mental health services in Bangladesh.With the UNHCR reporting a high level of psychological distress within the Rohingya population[2], the new services provided will target Bangladesh's refugee camps as well as wider host communities.
Through this partnership, the Kulczyk Foundation will be supporting the creation of 19 new positions, including counsellors and community mental health workers, as well as training community leaders in the host community and the Rohingya community in Psychological First Aid (PFA). The donation will cover the first year of the HOPE Mental Health Programme.
"There is currently limited mental health support for women in Bangladesh and the need for greater services is clear," said Dominika Kulczyk, Founder and President of the Kulczyk Foundation. "This team of mental health professionals and training for community leaders will provide a much-needed new approach to mental health services in Bangladesh. Through training local health experts and community leaders, we can ensure that we help them build a resilient and more sustainable community."
This announcement follows the two-year anniversary of Rohingya refugees fleeing Myanmar, and Dominika Kulczyk's recent visit to the region where she produced a documentary 'Stolen Son' which examines the current issues faced by the community.
"We are very happy with this collaboration and the support from the Kulczyk Foundation. As a maternal and child health focused organisation, we believe that sound mental health is an integral part of overall wellbeing – so desperately needed by our patients. This grant will support a long desired mental health programme which will grow and continue to serve the community in years to come," said Dr. Iftikher Mahmood, Founder of the HOPE Foundation.
The Kulczyk Foundation has previously supported the HOPE Foundation to open a field hospital for women in Ramu, Cox's Bazar. The Kulczyk Foundation also works with other local organisations in Bangladesh including the Bangladesh National Women Lawyers Association to provide psychologically-oriented rehabilitation services to female and child survivors of human trafficking.
[1]http://www.searo.who.int/bangladesh/mental-health/en/