The documentary "For Our Children" awarded again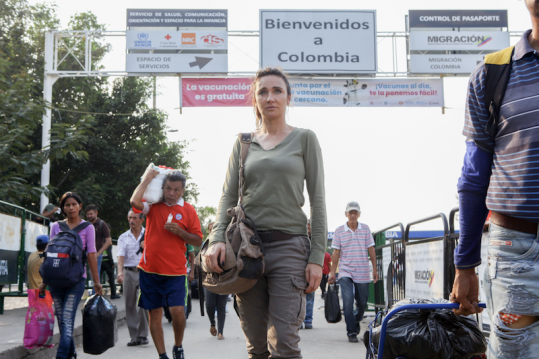 The AFIN Festival (All-Inclusive Film Industry Network) presents works both by beginning and recognized filmmakers, as well as screenwriters from different countries. The films competing there stand out with the high artistic value and originality, as well as the quality of production and narrative content which provokes to think and supports the exchange of views at the intercultural level.
The awarded film is about the humanitarian crisis in Venezuela. It shows the situation in the border Columbian city Cúcuta. Dominika Kulczyk is travelling there to meet the Venezuelans who are forced to flee their own country. Many of them are women. To escape from the danger and the tragic economic situation, they have to cross The Simón Bolívar International Bridge which connects both countries, and is often called "a bridge of desperation". The film "For Our Children" shows the stories of refugees and the struggle for a better life, dignity and future for their children. Based on the fate of part of them one of the episodes of the documentary series "Domino Effect" was made which you can find here.
– "For Our Children" is a film about woman's extraordinary strength. My conversations with Venezuelan women, who had to flee their country escaping poverty and dangers, made me realize what great courage and determination they showed. They left their life's work and were fleeing for dozens, and even hundreds of kilometers. They had to find in themselves endless amount of love and hope – hope for a better life for their children. My film is a tribute to their heroism and the collective portrait of people fighting to survive and for a dignified life – says Dominika Kulczyk, the president of Kulczyk Foundation.
The award for "For Our Children" at AFIN International Film Festival is the third one for this film. Before, it was recognized at the American Golden Picture International Film Festival in Jacksonville (February 2020) and at the 11th Awareness Film Festival in Los Angeles (November 2020).