World-renowned digital artist Uğur Gallenkuş displays collages in mural series for Polish cities highlighting global inequality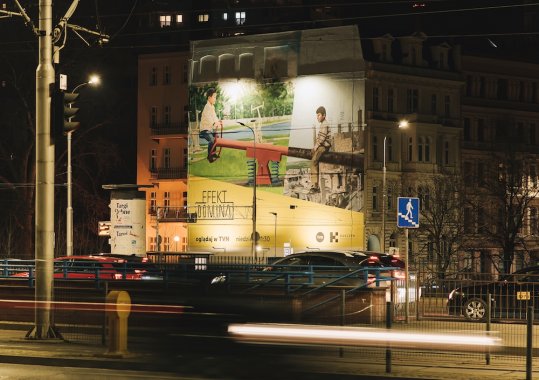 Gallenkuş's murals depict the sharp contrast between the lives of those living in developed countries, versus those living in countries where poverty, hunger and war are commonplace. In each collage, he collides the two worlds, creating purposely provocative and shocking juxtapositions, aiming to incite reflection around the dichotomies of wealth and injustice that exist in the world.
The works use photographs from a range of renowned international photographers, including award- winning Gaza-based photographer Wissam Nassar; Bangladeshi K M Asad, who contributes to Getty Images, and Spanish Lebanon-based documentary photographer Diego Ibarra Sanchez.
Uğur Gallenkuş began his digital artwork in 2015 when he was struck by the tragedy of Syrian civilians living in war and devastation. To draw the world's attention to the extreme situation in the country, he began creating artwork that compared images from the Western world with shots from regions where people are struggling for survival.
The works are being published in collaboration with the Kulczyk Foundation, a Poland-based NGO co- founded by philanthropist Dominika Kulczyk. The foundation's primary aim is to fight the problems of discrimination and inequality that affect vulnerable groups worldwide by implementing social changes based on sustainable solutions: a process which it calls 'the domino effect'. 'The Domino Effect' is also the name of the foundation's TVN documentary series, which sees Dominika and her team visit countries most affected by poverty, natural disasters and social injustice. The foundation offers support to local organisations to implement meaningful change and create better lives for the affected communities.
Uğur Gallenkuş, digital artist and creator of the works, said: "My work forces viewers to see the sharp contrast between different worlds, depicting how lost and separated we all are. The goal of this collaboration is to show a perspective that can't be ignored and will lead to action."
Dominika Kulczyk, co-founder of the Kulczyk Foundation and presenter of The Domino Effect, said: "The work of Uğur Gallenkuş is shocking and forces reflection from the viewer. His work aligns very closely with the work of the Kulczyk Foundation and The Domino Effect in the way it draws the world's attention to global inequalities and injustice. We are very excited to collaborate with Uğur to help raise awareness of the injustice and poverty that exists in the world, and are grateful for his work in putting the collages together."
The murals can be found at the following locations:
• Warsaw - ul. Tamka 36,
• Warsaw - ul. Jaworzyńska 9 (around the Metro Politechnika),
• Warsaw - ul. Bracka 25,
• Wrocław - ul. Podwale 7,
• Kraków - ul. Zwierzyniecka 22,
• Łódź - ul. Piotrkowska 114,
• Gdańsk - ul. Declaration 2.