Kulczyk Foundation helps women all over the world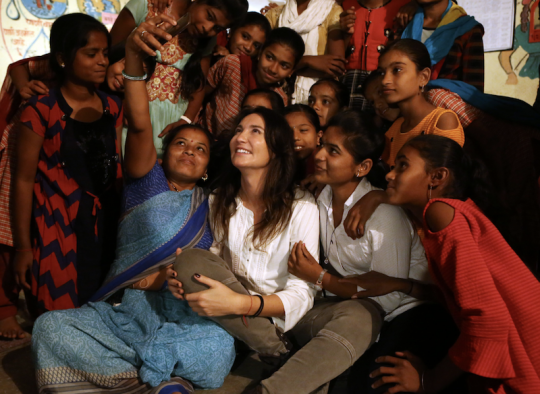 In previous years, the Kulczyk Foundation carried out aid projects in an incredibly wide range. We acted for the benefit of the excluded, discriminated and persecuted for economic, political and cultural reasons. Thus, we supported partner non-governmental organizations active in different parts of the world. So far, our help has reached 65 countries on 6 continents. Thanks to the Kulczyk Foundation, we managed to change the situation of more than 600,000 people for the better all over the world.
Support for victims of injustice and discrimination
Now, in line with the new strategy of my foundation, the activities of the Kulczyk Foundation will focus mainly on conducting projects for the benefit of women and girls as well as supporting those aid organizations that are run by women. Particular emphasis will be placed to fight poverty and menstrual exclusion. Therefore, we will work even more widely to achieve the 5th UN Sustainable Development Goal, which aims to achieve gender equality and empower women and girls. Our mission is to create a world where each of them benefit from their own inner strength and talents, fulfilling their dreams and meeting their needs on the way to freedom, equality and independence.
Body, awareness and being
By providing material help, we also provide knowledge that helps women realize their potential. This way, we rely on the domino effect principle. Interventions inspire and initiate further positive results. Thus, a genuine chain of good is created – the final result of the whole project is therefore many times greater than the initial aid activity. Among the many active projects conducted by the Kulczyk Foundation, one can mention a few examples the beneficiaries of which are women who live in developing countries. In each of them their freedom is supported in the spheres of the body, awareness and being.
In Bangladesh, the foundation I manage supported the HOPE Foundation which made it possible to co-finance the construction of a new hospital for women near Cox's Bazar. Another project of psychological assistance is being carried out with particular emphasis on Rohingya women in refugee camps. The problem is extremely serious because suffering of a psychological nature (depression, post-traumatic stress disorder, suicidal thoughts) is an everyday reality of almost all refugees from Myanmar.
In Kenya we work to fight with period poverty. The Kulczyk Foundation cooperates with the Project Elimu organization there. As a result, the girls from Nairobi slums receive hygienic products. There are also training courses on reproductive health. A similar project is carried out in Nepal where we support Days of Girls. This organization provides Nepalese in Kalikot district with washable sanitary pads and runs trainings for both girls and boys. This is very important as 76% of girls in rural Nepal do not have access to any source of information about menstruation. Cultural and religious conditions, which strengthen discrimination against women, are also a significant problem.
Thanks to the cooperation of the Kulczyk Foundation with the Juanfe organization from Colombia, it became possible to co-finance the "360 degrees" program which consists in supporting teenage mothers living in the slums of Cartagena de Indias. They receive psychological help, are provided with health care and can participate in vocational courses and trainings. An educational project, mainly concerning sex life, is also carried out in Romania. The Kulczyk Foundation supports the Policy Center and Minorities organization which takes care of girls of Roma origin living in Ferentari, one of the poorest districts of Bucharest.
The situation of women and girls living in India is particularly difficult. Forced marriage of minors is common there, and around 200 million female citizens of this country do not know how to care for hygiene during menstruation. 23% of them drop out of school and experience stigma during their periods. That is why the Kulczyk Foundation supports the Institute if Health Management Pachod (IHMP) operating in Pune slums. They organize awareness training courses for girls in the areas of their rights and reproductive health.
The Kulczyk Foundation also supports projects for women conducted in Poland. Twice a year, a special Grant Competition is held, in which projects submitted by foundations, associations or entities which belong to the regional government participate. The condition to apply is to propose a project whose beneficiaries are women and girls. In the last 8th edition of the Grant Competition, the 11 winning entities received a total of almost PLN 250,000. Women suffering from breast cancer, schoolgirls who have problems with access to hygiene products during the period, the victims of violence from Belarus, as well as farmers' wives or local artists and craftswomen will benefit from the grants. Additionally, we are strongly committed to the poorest children in Poland. We managed to build the biggest in Poland private nutrition support program in schools and care and educational facilities – the Yellow Plate. In 2020 its 5th edition was launched.
Not only aid projects
It is worth emphasizing that the Kulczyk Foundation operates in many areas – both providing real help and influencing a change in social awareness. Documentary films coproduced with TVN Discovery and CNN International are part of the latter's activity. We draw the world's attention to significant social problems related to poverty, intolerance and exclusion in them. Most of them tackle women's issues. The subject of particular episodes is related to aid projects conducted by the Kulczyk Foundation.
But that's not all. The Kulczyk Foundation also runs educational activities. For several months, together with the "Gazeta Wyborcza" Foundation and "Wysokie Obcasy", we have been running a social campaign "Tenderness and Freedom. Let's build balanced relationships", as part of which inspiring articles are published, as well as reports and interviews on the necessary change of interpersonal relations during and after the pandemic. Let's hope that soon we will feel a revolution – the coming of a new, more feminine version of the world around us. Focusing on empathy and the freedom to be yourself.
All the projects mentioned above are only part of the Kulczyk Foundation's activities. We are already planning more – there will be many more. We are constantly raising the bar and developing a network of wise help wherever it is most needed.
Dominika Kulczyk
President of Kulczyk Foundation
The text originally published in the strategic report of the UN Global Compact Yearbook Poland 2020/21